Contributing 75% of Your Sold Boat Data to soldboats.com
Effective January 1, 2021, we have instituted a new soldboats.com policy stating that a minimum of 75% of a member's used/brokerage inventory must be submitted to soldboats.com in order to maintain access.
This article provides more information about this policy, as well as answers to some frequently asked questions.
How to submit a boat to soldboats.com
1.) Once boat has been sold, change the status of the boat in BW to 'Off-Sold"
2.) A pop-up will appear where you can manually enter the sold boat data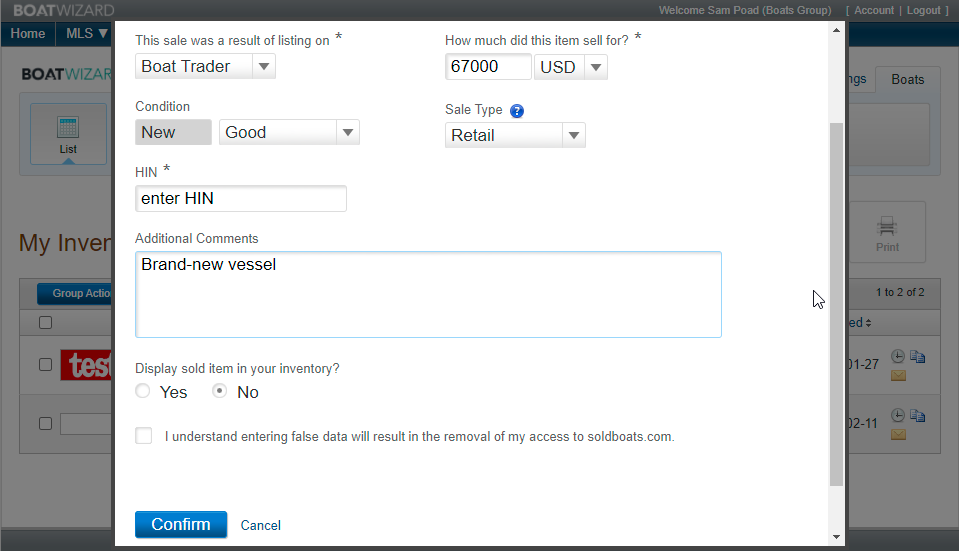 3.) Click Confirm
4.) Sold boat data will appear in soldboats.com within 24 hours
Can I manually submit sold boat information?
No. Data can only be submitted to soldboats.com from an active listing in your BoatWizard account. This means your listing must be created/initiated in your BoatWizard account.
If you currently do not use BoatWizard to manage your listings, please contact your account manager to discuss options for contributing and getting access to soldboats.com.
How will Boats Group enforce the policy?
The Boats Group soldboats.com team will be conducting a monthly audit to identify <75% contribution levels and reaching out to members directly.
How do I report a user that is not using soldboats.com appropriately?
Send any soldboats.com violations to policies@boats.com. Our Policies team will take the appropriate actions from there.
What happens if a user is consistently not contributing?
If a user is not contributing at least 75% of their sold listings, our Policies team will work with the broker/dealer to reach compliance; however, non-compliance may lead to revoked access to soldboats.com.